My 1974 Mako 20
My restored classic center console fishing boat.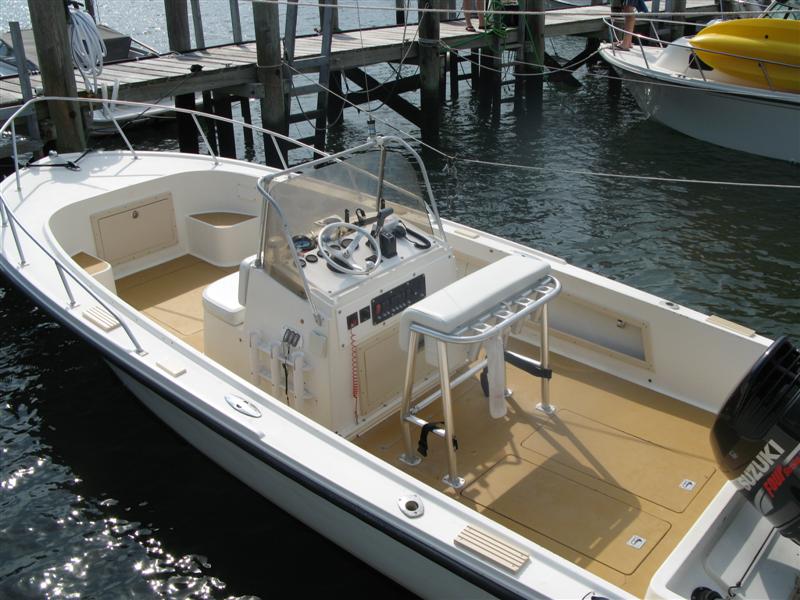 If you ever need any fiberglass work done, Raybo Marine is the place to bring your boat!
To come, comments on the restoration work done, and links to providers and products I find useful.
Basic Boating Safety
What follows are some basic bits of equipment everyone should have on their boat.

The best thing I ever got for my boat is a remote (wireless) cutoff lanyard switch. With one of these, you are no longer clipped to the helm, and can actually step away for a moment. It only cuts the motor if you get out of range (more than about 15-20 feet). This really helps for safety and convenience, especially when alone. There are two quality models out there:
- The Autotether, the original, installs like an E-ZPass, but does rely on batteries for the console unit, and you need to put a dongle in your pocket. I have this model, rely on it every outing, and just put new batts in every spring.
- The FELL Marine MOB+, which is much newer, has the benefits of a wristband dongle, and a hard-wired console unit (so no battery worries, but a harder install). And while I have not personally used it, I am very intrigued.

A dry box, like these MTM or Plano ones.
Very necessary. Once your first-aid kit and flares get waterlogged with moisture from sitting on your boat all season, they won't do you much good when you really need them. Stick your first-aid kit and flares in one of these instead.

Of course that proper first-aid kit in a real waterproof case, like this.

A couple of basic crank LED flashlights, like these.

A decent headlamp with red light option, like this.

A couple decent belt-pack life jacket (to put your fishing pliers!), like this.

A good handheld waterproof floating VHF (for backup, if boat sinks), like this.

A good higher power waterproof spotlight, like this.

A light, whistle and miror, in one convenient kit, to clip to your life vest, like these.

If you want to be fancy, put most of the above in a nice ditch bag, like this.

And add an EPIRB locator, like this.

Other items:
- I recommend a flare gun in addition to basic flares.

Other Useful Boating Products
A short list of products I have found invaluable on the water.

Bungee cords that don't rust or scuff, like any of The Perfect Bungee ones.

Dri-Dek tiles to line and protect the floor and sides of any locker that might contain heavy items (anchor, spare prop), or items that should to be kept dry (extinguisher, tools) like these.
(these are great because they lock together, and you can trim them down to fit any shape)

A prop and garboard plug wrench, like this.

A good RAM mount for your cellphone, like this.

A cellphone charger with dual 2.4A ports and that sits flush, like this.

A Shurhold deck brush, like this.

And if you don't already have one, one of their telescoping poles like this one.

A couple marine beanbag seats, slim like these, or a bit bigger like these.

Because you never know when someone will get wet, a large microfibre towel, like this.

A glasses cleaning mini cloth to hang somewhere handy, like this.

A few rail clips to hang towels, rags, or that hat you dropped overboard, like these.

Boat fenders, four, and some decent fat 6" ones, like these.
Or the round ball type in at least 12", like these.
And some rail clips (these) or rod-holder cleats (these) to hang the fenders.

Dock Lines, in nylon, double-braid, spliced, in 3/8 or 1/2, like these or these.
You will need 6 for the dock (2 bow, 2 aft, 2 spring), and 6 to live on the boat.
And get a selection of lengths, like 2 each of approximately 15, 20 and 25 feet.

Snap and zipper lube (for canvas, bimini, eisenglass, etc), to be applied at least once a year, like this,

A microfiber lens cleaning cloth, for sunglasses, like this,
and/or some lens/electronics cleaning wipes, like these.

Other such items, that should live on your boat permanently:
- I recommend a flare gun in addition to basic flares.
- Containers of your favorite Advil, Aleve, Aspirin, Tylenol, Benadryl, etc.
- Sunscreen.
- A packet or container of your favorite wet wipes.
- A selection of your favorite snack bars.
- A few cleaning rags.

Update Projects: Battery Systems, Chargers, Combiners, Lights, Fuses
If you are at all handy or have a good installer, then some of the best upgrades I ever made to my boat are the following:

A decent marine, smart, battery charger like either this Marinco or this ProMariner model.
In general, you want one charging bank per battery being charged, at least 10 amps per bank, and a separate status LED for each bank.

A smart battery distribution and combiner switch cluster, like this BEP model.
This has two advantages beyond a regular 1/2/Both/Off switch. First, once your engine alternator has charged your Start battery, then the smart combiner will merge in the House battery, allowing that to charge as well. Second, with your electronics (GPS, sounder, etc) now on the House battery, these will be protected from sudden fluctuations at engine start, and will no longer cut out or reset or turn off.

All-LED boat lights, like this nav light.
LED's are great for a boat because they physically last forever, don't break or wear out, and won't drain your battery. This last point is especially useful if you might fish at night and use spreader lights. For this particular nav light, I really like the telltales on top, and haven't had a single problem since I put it in over five years ago.

And finally, if you're at all tired of 1960's technology like glass fuses, then replace all of these by routing through a circuit breaker block with push-button reset-able breakers like this one from Blue Sea Systems. Not a hard install, and you'll never ever again worry about blowing a fuse!

Other Good Update Projects
Some other good upgrades to consider in and around the boat.

If you haven't already converted your trailer to LED lights, a good waterproof sealed submersible light kit like A heavy-duty tow harness, like this one is pretty easy to install, and you'll never change another trailer light (or get another ticket).

Water Sports, Tubing, Etc
If you might want to take the kids and their friends tubing, below is everything you need.

A heavy-duty tow harness, like this.
(also ok for waterski, but a basic waterski harness is not enough for tubing)

Booster Ball tow rope, needed if pulling low from the transom, like this.

Bungee extension (optional, but great fun!), like this.

A quick-connect, to easily attach the tow rope to the tube, like this.

A 12v inflator-deflator, like this.

A good quality 2-person towable (to start!), like this.

Some water sports life vests, either really basic, like these.

Or, if you don't want your family to be annoyed with you,
some properly-sized womens ones, like these.
and some proper mens ones, like these.



Good Boat Books
Some useful titles to be familiar with.

Viatses, The Fiberglass Boat Repair Manual
A good look at repair techniques for fiberglass boats.

Aiken, Fiberglass Repair: Polyester or Epoxy
More good repair information, including the possible use of poly resins.

Brotherton, The 12-Volt Bible for Boats
Required reading before attempting any electrical repairs or new wiring on your boat.





(And hopefully more to come soon!)


Disclosure: This site is a participant in the Amazon Services LLC Associates Program, an affiliate advertising program designed to provide a means for this site to earn fees by linking to Amazon.com and affiliated sites.
That said, I have personally used or purchased almost all of these products and many, many more with my own money; never received any free or review or promo samples; included above only those I believe have merit; and all commentary above is my own opinion and not a paid-for endorsement.